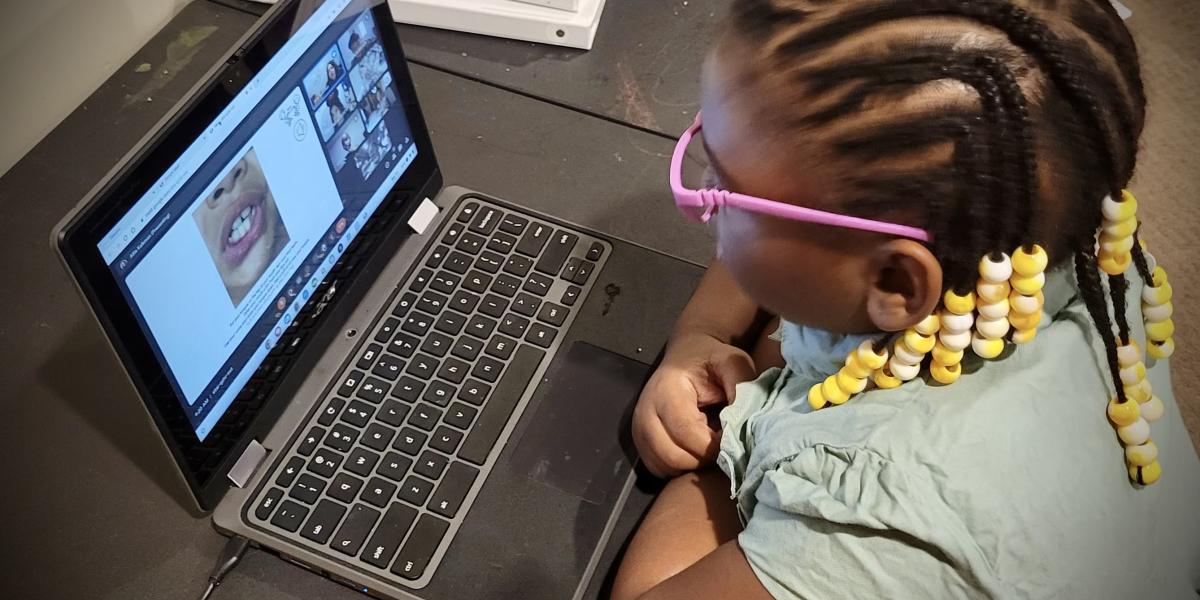 November 14, 2023
Unveiling the Magic of Virtual Kindergarten
Allie Kalkman has a gift; some say it's a calling: to make learning engaging and hands-on for young children. At New Code Academy, making learning fun and effective is especially important. "How can we provide a rich virtual learning environment?" said Ms. Kalkman. "We need to ensure learning is as engaging and multi-modal as possible—not just lecture time, not just staring at screens. Our students use their bodies and their hands. They engage in play. They are hands-on with activities, and we provide all the same supplies used in a traditional classroom."
New Code Academy's seamless alignment with Bloomington Public Schools sets it apart as a virtual school. "Our curriculum completely aligns with what Bloomington is teaching," Ms. Kalkman explains, "but we have completely remapped how to teach the same experiences virtually. We ensure students are getting an equitable learning experience." 
Surprisingly, Ms. Kalkman has found that students are sometimes more able to engage in a virtual environment than in a traditional classroom. "There are fewer distractions, and we see fewer peer conflicts," she notes. "There's a misconception that virtual learning must be more isolating for students. But that's not the case in New Code Academy. Learning and new experiences can be scary, but home is their safe place. Bringing learning into a comforting, safe place can make a significant difference for some students."
Creating a sense of community within her class also sets New Code Academy apart. Building relationships with students and families is a top priority. "We are intentional about getting to know one another. We provide plenty of non-academic activities and play groups to help students build connections with their peers and our team members." 
Partnering for Student Success
In the spirit of collaboration and student achievement, New Code Academy strongly emphasizes partnering with families. Ms. Kalkman and her team work closely with families, ensuring they understand classroom material and how to support their children's learning. Many families have remarked that this experience is the first time they genuinely grasp classroom content and can actively participate in their child's education, thanks to firsthand involvement in the learning process.

Beyond the virtual kindergarten community, there's a strong school community at large. "Students meet teachers and administrators across levels. We make sure it's not just a classroom but a real school community and try to bring all the fun celebrations into everything," shares Ms. Kalkman. "In addition to academic growth, we foster life skills and social development for all students. There are in-person opportunities for families to meet and participate if they want to add that component. We're all about offering options to families that support individual needs."
New Code Academy believes in setting students up for success regardless of their situation. "There may be circumstances that lead a family to choose a virtual school that later are not a factor—a medical concern, maybe." She adds that some students join her school for a short time, others longer. "As a teacher in Bloomington and now at New Code Academy, I am very mindful that skills taught should be equitable between places. Students will build the same independence and social-emotional skills they do in a school building. A virtual environment allows for comfort and familiarity by having family nearby, but students still build capability all on their own. Kindergarten students are especially capable—often more than we give them credit for."

Individualizing learning and personalization are key components of Ms. Kalkman's classroom. "We're very fluid in how we support students and help each student get what they need to succeed. I can inform instruction daily with data to ensure students learn and grow. We thoughtfully pair students with peers and approach each student with different opportunities to supplement or extend their learning. The virtual classroom is very flexible and adaptable." 
Bloomington Public Schools offers strong computer science education —often underserved across Minnesota. New Code Academy is a computer science immersion school blending all learning with technology and problem-solving skills that will help students throughout their educational journey and in life. 
"One surprising benefit I didn't expect is the sibling effect," shares Ms. Kalkman. "Many of our Kindergarten students have older siblings in our school, and these younger students have heard their siblings participate in virtual learning over the past few years. I'm seeing some of the younger siblings come in with advanced skills that I typically don't see in this age group. It's an unexpected benefit to virtual learning!"
With dedicated teachers like Allie Kalkman, the virtual kindergarten experience is a joy as it nurtures, educates, and inspires young learners. Passionate educators are the driving force behind a successful virtual school, one that transcends boundaries, making learning a captivating adventure. It's clear that virtual kindergarten isn't just an alternative to traditional classrooms – it's a dynamic experience, unlocking the potential of every child and building the foundation for a bright and promising future.